RoboGyroSphere.com
This Site Is Under Construction and Coming Soon.
RoboGyroSphere: 6DOF Inertial Motion Simulator
by Axion Systems, Inc.
A High-tech Entertainment System featuring a 6DOF Inertial Motion Simulator (Six-Degrees-Of-Freedom) that employs state-of-the-art technologies such as: Robotics, Computerized Control Systems, Advanced Video Displays, and High-Fidelity 3D Audio Surround Sound.
The Dream
The concept for The RoboGyro grew out of building two operational props for a movie set.
Jonathan Betuelís, technically ground breaking, cult-classic 1984 sci-fi original movie, "The Last Starfighter", featured an old arcade-style video game console where the reluctant hero, Alex Rogan, a small-town teenager with big-time dreams, reaches the top score playing the game which ultimately results in his recruitment into a far off space battle, destined to defeat an imminent alien invasion. In the script for his sequel, "The Last Starfighter Returns", Jonathan features a modern day video game and contest associated with a live gaming tournament. Years later from the ending in the original movie, a new reluctant hero, Oliver - Alexís 16 year old son, enters an online video game contest, becomes the highest-scoring player of the game, and goes on to compete in a live-tournament hosted at "GameFest", a video game convention held in Las Vegas. Here, again, we find Centauri - the lovable con-man, recruiting unsuspecting gamers to find one with the "Gift" that can "Defend the Frontier against XUR and the KO-DAN Armada". Once at GameFest, Oliver will compete in a tournament featuring two Gunstar Simulators.
(Sorry, no more spoilers here)
Coming up with a great idea, we made the pitch to Jonathan, and planned to actually create, produce, and release the video games being featured within the upcoming movie sequel, as well as build the Gunstar Simulators, and host an actual live-tournament with cash prizes and televised at upcoming video game related conferences, conventions, and expos. But, all that will now have to wait until the movie production is realized and on-track.
So moving ahead without the involvement of the movie production - The RoboGyro will no longer be just a prop, but an actual full-on functional system - a 6DOF Fully Immersive Inertial Motion Simulator designed for an extreme form of Video Gaming Entertainment!
The Vision
Offering a truly unsurpassed Immersive Virtual-Reality Experience - The RoboGyro System completely surrounds its operator with vivid sights and sounds, while taking advantage of additional full-body Haptic Feedback and instantaneous Tactile Response. Primarily designed to be used in Exclusive Video Gaming Applications the RoboGyro Inertial Motion Simulator is also designed to be one of the newest and advanced forms of a Multi-purpose Amusement Park Attraction. Currently in a conceptual and early design phase, the RoboGyro System is an adaptive and versatile design that quickly brings into use content for any imaginative application.
Fully Immersive Virtual Reality Environment:
Experience being "fully immersed" inside of an intense simulation, participating and controlling the action while being totally surrounded by vivid sights and sound, having full-body haptic feedback, and instantaneous tactile response.
Ultra High-Definition Display Graphics
Spherical Display Monitor - featuring a Breakthrough in the Technology
The Interior (and Exterior) Shell is Lined with Full 360o Wrap-Around 'Flexible' Video Panels
Supporting 3D Stereographic Options
3D Surround Sound Audio System
High-Fidelity Front, Rear, Sides, Top, and Bottom Speakers
Low Frequency Effects (LFE)
Interchangeable Operator Controllers and Monitors
Wrap-around "Flight Deck" Display Monitor
Virtual Instrumentation - System Status, Navigation, Radar, Indicator Lamps, etc.
Customizable on-screen HUD (Heads-Up Display)
Touch Screen "Virtual Controllers"
Keyboards, Video Game Controllers (Xbox, PS3, WII)
Custom Switch and Operation Panels, etc.
Hand Controls
Joysticks
Automotive Steering Columns
Aircraft (Control Yoke, Center Stick, Throttle) and Helicopter Controls (Cyclic Stick, Collective Lever Throttle), etc.
Foot Controls
Custom Game Specific Controls
Automotive (Brakes, Accelerometer, Clutch)
Aircraft (Rudder, Brake Pedals) and Helicopter (Anti-torque Petals), etc.
Menu-Driven Content Selection
GUI Applications enables users to instantly choose among literally dozens of virtual reality experiences.
Voice and Gesture Recognition Technologies
Translational/Rotational Motion and Inertial G-Force Simulation:
Operator Controlled "Six-Degrees-Of-Freedom" (6-DOF)
X, Y, Z - Translational Momentum via Robotic Arm:
Front-to-Back Motion along the X-axis is called 'Surge'.>
Side-to-Side Motion along the Y-axis is called 'Sway'.
Up-to-Down Motion along the Z-axis is called 'Heave'.
Roll, Pitch, Yaw - Rotational Momentum via Gyroscopic Sphere:
Rotation around the Longitudinal X-axis is called 'Roll'.
Rotation around the Lateral or Transverse Y-axis is called 'Pitch'.
Rotation around the Vertical Z-axis is called 'Yaw'.
Examples of Simulation Concepts:
Interactive Video Games
Experience being "fully immersed" within a video game, physically participating, and actively controlling the action. Example video game content includes genres such as: Space Battles, Shooters, Automotive & Vehicular Racing, Air/Navel/Tank Warfare, Mecha, etc.
Flight Simulators
Experience operating spacecraft on "virtual space missions". An example mission can include: launch, achieve orbit, rendezvous and dock with the International Space Station, undock, leave orbit, re-enter the Earth's atmosphere, and return safely to the launch site.
With the RoboGyro configured as an advanced cockpit adaptation for Microsoft Flight Simulator, operators can experience "piloting virtual flights" in historic airships from the beginnings of manned flight to WWI, WWII, modern day, and futuristic.
Virtual Automotive Racing
Experience virtually driving the most incredible automobiles on a variety of race tracks from all over the world. Examples include: Formula One, Indy 500, GT, Sports-Car, NASCAR, NHRA Drag Racing, Rally, Off-Road, Kart, Monster Truck, Demolition Derby, etc.
Advanced 4D Ride Systems
Installations for: Museums, Family Entertainment Centers (FEC), Arcades, Carnivals, Fairs, Festivals, and Amusement Theme Parks. Media content can include: Movie Themes, Cartoon & Comic Book Themes, Action and Fantasy Adventures, Scientific Themes, etc.
Virtual Theme Park, Arcade, and Classic Carnival Rides
Roller Coaster Simulator: Experience recorded audio, video, and inertial G-forces from actual roller coasters from all over the world.
Imaginary Arcade and Amusement Park Rides: Virtually experience what can't be done in the real-world, where endless applications can only be left to the imagination. Examples include: ride your favorite coaster backwards or upside down, take a space-flight through a worm hole, travel back in time to the age of the dinosaurs, explore the human body from the inside in a nano-submersible craft, or being the ball in a life-size virtual pinball machine.
Cinema and Movie Action Scenes
Experience virtually and physically re-living a favorite movie scene or animation sequence. Experience classic movie sequences including: space battles, warfare, aerial dogfights, chase scenes, magic carpet rides, fairytale adventures, etc.
Other Applications:
Control of Remote Operated Vehicles
Training Simulators
Prototype Amusement and Theme Park Rides
Virtual Adventure and Travel
Movie Props
Hosting Tournaments and Competitions held in a conceptual "Cyber Sports Arena"
RoboGyro - Principal Components:
The "GyroSphere" Assembly
The main component of the RoboGyro System and is a 6DOF (Six-Degrees-of-Freedom) Motion and Inertial G-force Simulator featuring newly developed technology in a spherical video display that completely surrounds and immerses its passenger within the interior, viewing ultra-high definition media content. The media content and simulated motion is completely controllable by the passenger/operator.
The Robot Arm provides the GyroSphere Outer-Frame Yoke Assembly with motorized rotational motion (Roll) along the X-axis. The Outer-Frame Yoke Assembly provides the Ring Assembly with motorized rotational motion (Pitch) along the Y-axis.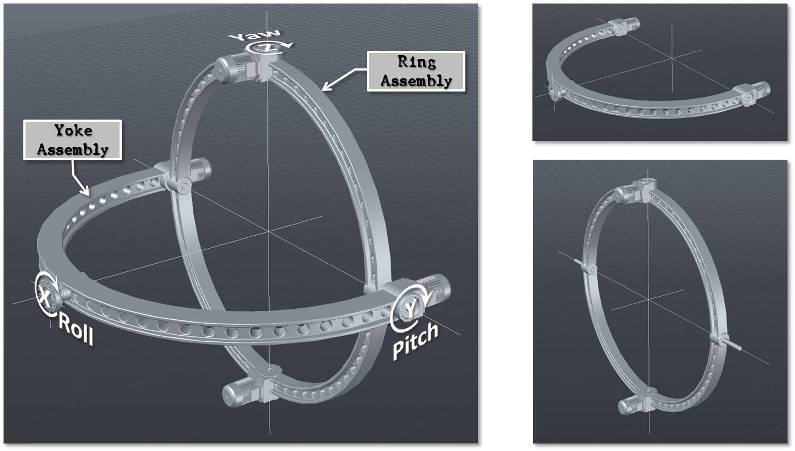 The GyroSphere Inner-Frame Assembly houses the passenger seat and restraint system, onboard electronics, and flight deck display monitor. The Outer-Frame Ring Assembly provides for the motorized Inner-Frame rotational motion (Yaw) along the vertical Z-axis.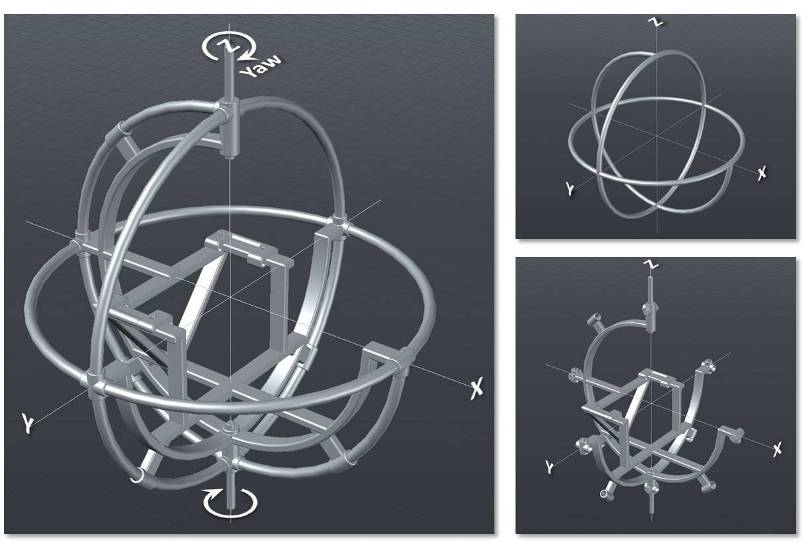 The RoboGyro Spherical Video Display consists of two concentric half-shells with interiors lined with newly developed advanced curved/flexible ultra high-definition video panels. Full 360o immersed video is experienced by the passenger when the two shells are fully closed. The shells rotate on the Z-axis, opening and closing for passenger loading and unloading.
The GyroSphere Flight Deck Display Monitor also consists of a curved video panel serving as a "dashboard" to display in-game: virtual Instrumentation, system status, navigation, radar, indicator lamps, etc. The assembly rotates to the side for passenger loading and unloading.
The GyroSphere Operator Controls consist of joysticks and a touch screen "virtual controller" configured as keyboards, video game controllers (such as Xbox, PS3, WII), or as complete customized switch panels.
Adjustable Hand-Controls and Foot Petals are interchangeable for various applications including: spacecraft, aircraft (control yokes, center stick, throttles), helicopter controls (cyclic sticks, collective lever throttles), automotive (steering columns, brakes, clutch, accelerator), and custom game-specific controls.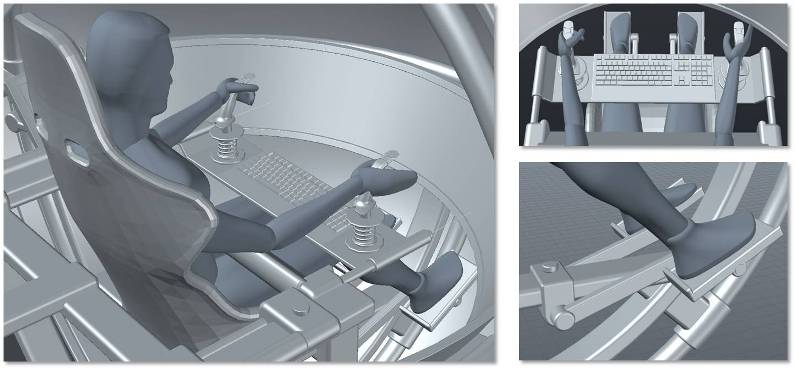 GyroSphere rack-mounted Onboard Electronics are serviceable and interchangeable for all media types.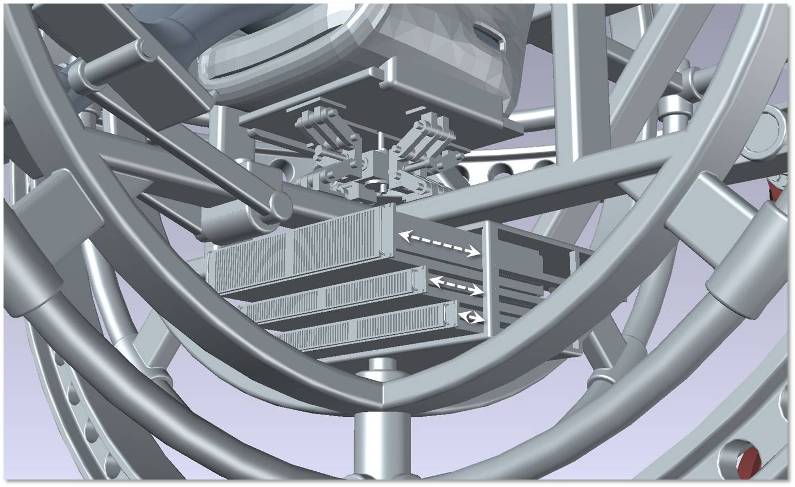 The GyroSphere Passenger Restraint System consists of a padded Horizontal Lap-Brace positioned along the Y-axis and center of gravity. The 5-Point Safety Harness (not shown) securely holds the passenger tightly in the seat, as the GyroSphere has the capability and regularly goes completely inverted. The horizontal lap-brace is secured and locked-down during operation.
The lap-brace, along with the Hand Controls Assembly is hinged and unlocks to swing up, over and away, to accommodate passenger loading and unloading.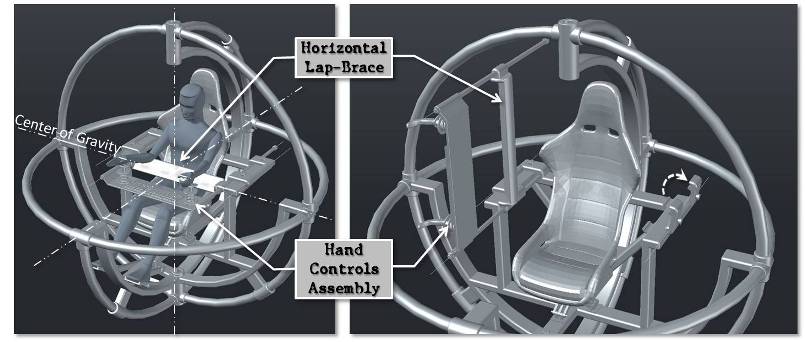 The GyroSphere Passenger Seating consists of a NASCAR type Racecar Seat. The seat forward/back positioning and height adjustment system brings the passengerís lap comfortably snug up and into the horizontal lap-brace restraint located at the center of gravity. The system can accommodate passengers with heights between 4 1/2 and 7 ft. The hand-controls assembly and foot petal positions are also fully adjustable.
GyroSphere Passenger Loading and Unloading Position.
The Robotic Arm
Providing the simulated motion and inertial G-forces for the RoboGyro System is an industrial robot arm. Being considered is the KUKA KR 1000 TITAN which is the strongest and largest 6-axis robot available on the market. With a payload capacity up to 2200 lbs, it is used primarily in the aerospace and automotive industries.
Telescopic Pedestal: Base and Column Assembly
The GyroSphere and robotic arm are automatically elevated by a telescopic pedestal and column that is hydraulically controlled. Mounted on top a Rotary Joint platform, power and data is fed through an umbilical slip-ring assembly providing unrestricted 360o circular motion to the robotic arm and GyroSphere. The telescopic column is supported by a base consisting of eight weighted hinged legs. Electronic equipment and hydraulic lift controls are housed within the pedestal base. The entire assembly retracts and folds-ups for transportation.
RoboGyro - General Dimensions:
The RoboGyro requires a footprint radius of 25ft, and a minimum ceiling height of 40ft with the telescopic pedestal and robotic arm fully extended.
The "GyroSphere" Assembly:

7.5 ft Diameter for Single Seat and Dual Seat Configurations.

Custom diameters for larger Multi-Seat 6DOF (Non-Robotic Arm) configurations.
Robotic Arm:

KUKA KR 1000 Titan 6-Axis Industrial Robot.

Payload Capacity of 2200lbs.

Reach of 10.5ft.
Telescopic Pedestal:

Four sections lifted hydraulically with 36 inch vertical extension each.

Pedestal Column with retracted height of 7ft and a full extension height of 16ft.

8 Hinged Foldable Legs with a 50ft diameter footprint.

7.5ft Column Diameter at Base.

5ft Diameter motorized Rotary Joint at top of column providing unrestricted beyond 360o rotation with power and data feed-through via an Umbilical Slip-Ring Assembly.
For inquiries, click here: info@undisclosed.enterprises